What is TPRM and why you must care?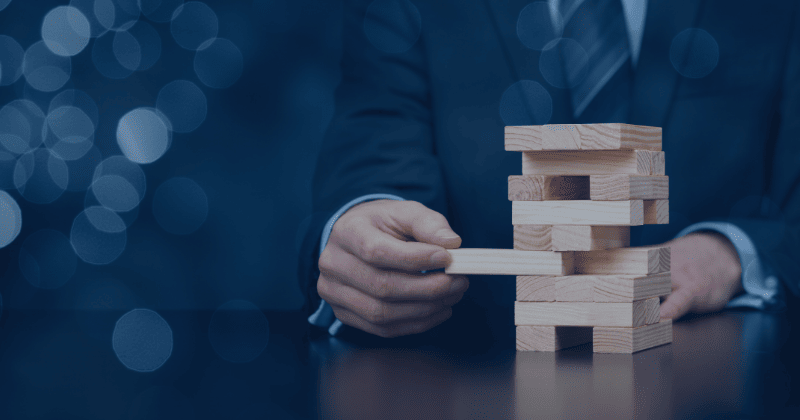 Jun 3, 2022
Reading time: 6 mins
In a cloud-first world, users and organizations have what seems like an infinite supply of third-party solutions for different types of services, ranging from obtaining compute resources to run applications, to using software services for financial and marketing purposes. But as the cybersecurity landscape also continues to evolve, with threat vectors both internal and external to their environments and applications, users need to consider the risks that may be posed to their systems by using these third-party services and vendors. The SolarWinds Orian attack is one prime example of a third-party tool causing system vulnerabilities for all its customers, including major players like Cisco, Intel, and Microsoft, who were using this software – and that's unfortunately not an isolated event: More than 51% of businesses get compromised due to a breach caused by a third party.
This is where third-party risk management (TPRM) comes into play by helping users identify what kinds of threats can arise from these third-party vendors and how to protect against them. In this post, we will look at TPRM and its importance in a cloud-first world.
What is TPRM?
TPRM, or third-party risk management, is a type of risk management that focuses on identifying and preventing the risks related to third parties, such as vendors, partners, and service providers. TPRM enables organizations to gain an in-depth understanding of third-party services, including how to best utilize them, types of data stored, access privileges, and security practices in place to protect the services and data. All these things ensure that a compromise with a third party will have minimal impact on the organization or prevent any impact if possible. The exact scope and requirements of TPRM will depend on factors such as the type of third-party, regulatory and compliance requirements, and organizational use cases. 
Nowadays, more and more organizations depend on digital third-party services to power core parts of their businesses or to extend their business activities. Thus, TPRM must be considered regardless of the type or scale of the business. When considering the technology sector, for example, the popularity of the cloud has led to almost all businesses using some kind of cloud-based service. They effectively rely on third parties for these cloud services, with different vendors providing different services. All large-scale service providers like AWS, Microsoft, and Google, who provide everything from infrastructure to software services via the cloud, down to small and medium-scale providers who provide specific services or software, fall under this third party classification. Therefore, identifying how a compromise in these digital services will affect your organization, and how to reduce such risks, is paramount to your business continuity.
Why you must care about TPRM?
Without proper TPRM practices, any type of compromise with a third party can lead to disastrous consequences for organizations. It can expose the internal systems to different kinds of threats and attacks, which can range from a system getting exposed to DDOS attacks and impacting performance, to data breaches exposing user data and causing irreparable damage to the trust and reputation of a business. Implementing a proper third-party risk management lifecycle is the ideal way to manage these risks associated with third parties.
5 Third-Party Risk Management Lifecycle Steps
This lifecycle ensures that security is prioritized and managed whenever the organization is dealing with a third party throughout their business relationships. A typical TPRM lifecycle consists of the following steps:
1. Third-Party Vendor Identification
The first step includes identifying all the third parties working with the organization and any new third parties that the organization is planning to use. Then a vendor inventory is created with information such as the scope of usage, purpose, vendor details, certifications, regulatory compliance, security reviews, types of data involved, and integration type. All this information allows users to identify the risks posed by each vendor.
2. Evaluation and Risk Assessment
The organization will engage with the existing or new vendors they intend to use and carry out a thorough security assessment. However, it will be a time and resource-intensive process. The primary goal of this process is to identify all the risks associated with the vendor. Some command standards used for assessing risks include ISO 27001, CSA CAIQ, SIG Lite & SIG Core, and industry-specific standards such as HITRUST.
3. Risk Mitigation
Identify if there are ways to mitigate these risks or whether the risk is acceptable according to the organization's risk tolerance depending on the risks identified through the risk assessment. Some risks may be unavoidable, such as a breach in an IaaS vendor compromising the network of an organization. However, proper security controls can reduce the impact of such an incident. In such instances, third-party vendors may also use other service providers who are considered fourth parties. So these fourth parties should also be considered when it comes to risk mitigation if they have a direct relationship or dependency when fulfilling user requirements.
4. Approval and Procurement
Third-party vendors are approved or rejected based on the identified risks, mitigation methods, and risk tolerance of the organization. The procurement process can be started once these vendors are approved. Here, the organization and third party will sign the contracts with relevant terms and conditions such as pricing, compliance, data protection, service level agreements, and liability. In other words, it is important to note that TPRM is usually managed by procurement teams, not security teams. 
5. Continuous Monitoring
Now, this is where things get tricky. Traditionally, TPRM entails conducting periodic checks on third-party vendors involved with the organization to identify the potential risks of each outsourced service. But these checks do not provide real-time insights, as they rely on 3P vendors rather than being carried out continuously. Additionally, they tend to be based on general grading – that is, a rating system which serves as a standardized, scalable, and repeatable due diligence procedure for identifying risks and categorizing third-party providers in light of those risks. In other words: this kind of risk assessment can cover the risks identified at the time of the assessment – no more, and no less. However, risks evolve over time and new risks are constantly created, which means that a new approach to TPRM monitoring is needed. This is where Reflectiz comes in to propose the continuous monitoring of third-party risks as a critical step for ensuring that any changes to the vendor, including new regulations, vulnerabilities, data breaches, product changes, and vendor organizational changes, have minimal impact on the business.
It is essential to implement a TPRM lifecycle when utilizing any type of third-party vendor or service provider because it enables users to proactively understand the risks associated with leveraging these services and how to mitigate them  to prevent any security issues. One thing to note here is that TPRM is not limited to cybersecurity risks. It may be the primary factor when implementing TPRM. Yet users will also need to consider other risk factors like privacy, compliance, performance, operational, financial, and even reputational risks as a negative view of a third party that can impact any organization or business associated with it.
Thinking outside the TPRM box in a cloud-first world
Third-party risk management plays a key role in understanding and preventing the risks organizations face when interacting with third-party vendors and services. Besides, it is impossible to avoid third-party services in a cloud-first world. Therefore, users need to implement TPRM practices from the start to secure the environments, applications, and websites of an organization. 
Implementing TPRM is undeniably a complex and time-consuming process. The more you rely on third parties, the higher the complexity of implementing TPRM to understand and mitigate risks. However, the benefits gained by TPRM far outweigh any implementation complexity as it enables organizations to be better prepared to deal with any type of third-party system compromise and protect themselves. Having said that, TPRM does have its security downfalls: Conducting periodic security checks on your third-party vendors is not enough to help you manage risks on an ongoing basis. 
Websites today load many third-party resources on any given webpage – from payment providers such as Visa, Mastercard, and PayPal, to marketing tracking solutions such as Google Analytics. Where dozens of services may load simultaneously, it becomes challenging to recognize whether third-party providers are vulnerable and leading attackers to the website where their services are used in time to prevent a regulation breach or protect your customers' data. Because website owners do not control the security and compliance of third parties, it is challenging to guarantee whether they're secure and compliant themselves. To solve this problem, Reflectiz maps out all third-party activity on a website and provides the website owner with the resulting data on their potential compliance issues and vulnerabilities. On a single platform, you can see which digital assets are running on your website (your digital inventory), the behaviors of these applications and their potential security implications, and the relationships between assets (mapping where third parties communicate with data and other domains). To learn more, explore our platform and see for yourself how it can complement your TPRM lifecycle.