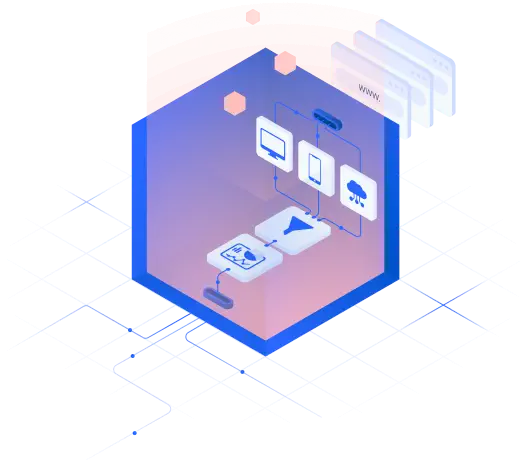 The First Sandbox for Website Security
Leave nothing undetected with a full analysis of your website and the associated risks of all digital assets, powered by our one-of-a-kind simulated user-browser
What is the Reflectiz solution?
Reflectiz is a one-of-a-kind fully remote sandbox solution that simulates user behaviors to monitor your website and perform in-depth analysis of your digital ecosystem. Our remote scanning process identifies security and privacy risks without creating a new third-party liability on its own. For that, we worked hard to create the first full simulation of a user browser, that can behave like a real person, ensuring that nothing gets past our system undetected.
Reflectiz solution consists of two core factors:
Zero-touch approach
Save time, effort and resources by easily implementing the technology into business process without intrusive installation.
Actionable results
Prioritize actionable results, translated and aligned with your business context. No false positives, and no chasing ghost alerts.
Reflectiz in Detail
Monitoring
Our platform actively collects website data by browsing the different pages and simulating user behavior. It monitors all pages, technologies, domains and data connected to your website – from homepage to checkout.
Asset Discovery
The data collected is now transformed into an easy-to-read visual asset inventory. We organize the raw data by mapping the website scripts, their actions and behaviors, and where they communicate the information they process. We call this the WWW.
Which is the asset in question?
What does the related asset do?
Where does it communicate the data it collects?
Analysis
Each of your website pages and components now goes through an in-depth behavioral analysis process with our own proprietary browser. This allows us to understand all the actions performed on a given page and perform root cause analysis; creating the connection between the scripts, its actions, and the data involved.
Prioritization
After all of the data is mapped and analyzed, we compare it against previously scanned data to understand what's new and what has changed. After that, we can assess which of the changes are irregular or suspicious and decide if and how to further examine and address them.
Finally, we use Machine Learning to compare the data across multiple databases to get a better understanding of each component's reputation, any online threat markers, and to compare it against our own internal data.
Validation
Now that we have full visibility of your website's ecosystem and an in-depth analysis of its third parties, we can finally establish the defensive baseline that functions as a point of reference to enforce your security standards.
Our platform will now provide you with detailed remediation recommendations and intuitive action items. No more alert fatigue, as we only notify you on changes that deviate from your baseline and suggest an impact on your security posture.
Want to learn more about Reflectiz technology?