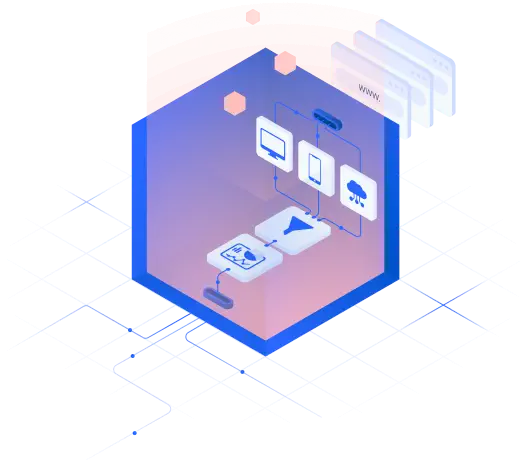 The Most Comprehensive Solution for Website Security
Ensure nothing goes undetected by performing a comprehensive analysis of all website components, exposing their associated risks.
What does the Reflectiz solution entail?
Reflectiz remote sandbox solution monitors all first, third, and fourth-party applications and detects vulnerabilities and risks in your online ecosystem, providing complete visibility over your web threat exposure surface. It effectively prioritizes and remediates risks and compliance issues.
All is executed remotely and requires no installation or embedded code.
Phase 1 – Complete Discovery
Reflectiz's proprietary browser crawls and maps key website pages, simulating real user activity with chosen settings. It covers all online assets, including authentication, checkout processing, pre-production scans, and more, and automatically checks for changes.
Phase 2 – Deep Behavioral Analysis
The Reflectiz browser mimics user behavior and analyzes page activity, monitoring all components, JavaScript execution, and network requests.
The browser acts as a client-side proxy, detecting all webpage activity and collecting millions of events for root cause analysis.
It monitors all web components, including scripts, iFrames, tags, pixels, cookies, and headers.
It has no limitations and can track all activities, including non-origin content and first-party components on any webpage.
Phase 3 – Data Analysis and Processing
Reflectiz cross-checks the collected data with cyber-reputation databases for known vulnerabilities, malicious scripts, and open-source vulnerabilities, which helps Reflectiz to answer three critical questions:
WHO are your third-party components?
Vast inventory of third-party and open- source apps, monitors from the entire web ecosystem.
WHAT are they doing?
Their risky activities, such as keylogging, tracking, PII harvesting, and more.
WHERE do they send the data they collect?
The security of internal and external servers that interact with your websites.
Phase 4 – Actionable Baseline Alerts
After all threats have been detected, the Reflectiz platform creates and prioritizes alerts based on the risk level of each component, determined by WHO, WHAT, WHERE questions.
Reflectiz customizes behavior baselines with each organization and offers an alerting system that suggests clear mitigation and prevention steps, recommends script modifications, flags only critical changes, and blocks threats when necessary.
The platform integrates with Splunk, Jira, or any SIEM/SOAR solution using a bi-directional JSON-based REST API for streamlined alert management.
This is a continuous process that repeats phases 1 to 4 based on client requirements, ensuring constant monitoring and detection of online risks and vulnerabilities.
Want to learn more about Reflectiz technology?