Celebrating the Women of Reflectiz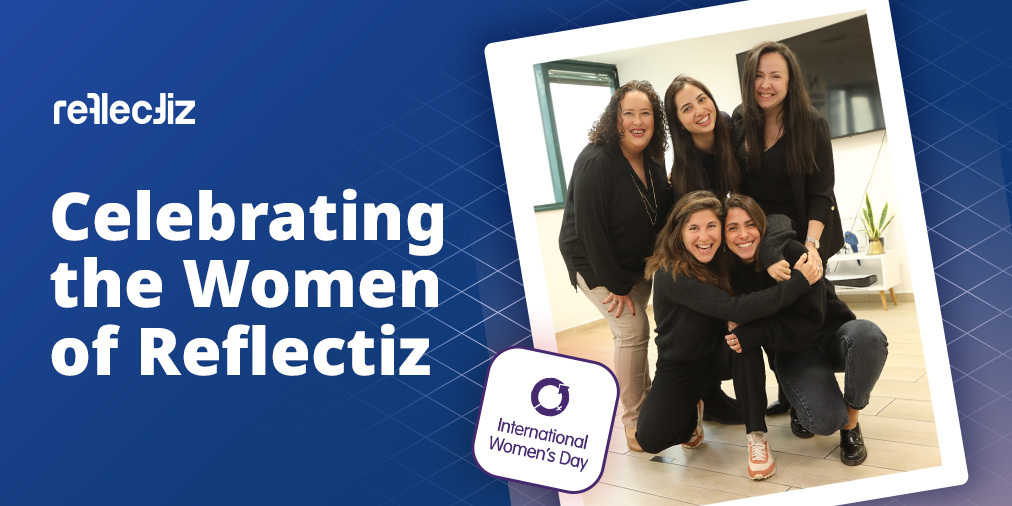 Mar 7, 2023
Reading time: 3 mins
As we celebrate International Women's Day, Reflectiz is proud to have a team of talented and accomplished women who have played a crucial role in the company's success. So today, more than ever, we will celebrate and highlight the achievements of the Reflectiz cyber women and their impact on the company.
How does your role at Reflectiz empower you as a woman?
Elinor Avny, Head of Customer Success
As a woman in Customer Success at Reflectiz, I feel empowered by the opportunity to help our clients succeed and make a meaningful impact on their businesses. I am able to use my skills and knowledge to build strong relationships with our customers and help them achieve their goals. Additionally, working for a company that values diversity and inclusion makes me feel supported and respected. Overall, my role in Customer Success has allowed me to grow both personally and professionally, and I am grateful for the opportunities it has given me as a woman in the workforce.
Yael Aharon, Operations Manager
As a woman in the operations department at Reflectiz, I feel empowered by my impact and significance in all aspects of the business. I use my skills and knowledge in cross-organizational fields such as legal, sales, finance, logistics, and more. In a business world that is mostly dominated by men, I am happy to feel like an important and significant part of the company's success. Working at Reflectiz fills my world every day, teaches and enriches me, and develops my multitasking skills. Moreover, no one is prouder than me to be part of an amazing female team here at Reflectiz.
Natalie Shem Tov, Account Executive
As a saleswoman in the cybersecurity industry, I am proud to be part of a growing movement of women who are breaking down barriers and carving out a place for ourselves in this industry that has historically been male-dominated. While there may be fewer women than men in this field, we are making our presence known and showing that we have just as much to offer.
Marin Bass, Human Resources Manager
As a Human Resources Manager at Reflectiz, I have the opportunity to empower myself as a woman by taking on a leadership role and contributing to the growth and success of the company. My position allows me to promote diversity, equity, and inclusion within the workplace, advocate for fair hiring practices, and support the professional development of employees. By doing so, I am not only advancing my own career but also creating a positive impact on the organization and on the lives and careers of women and other underrepresented groups.
Daniel Sharabi, Marketing Director
I believe that women bring unique capabilities and soft skills to the table that can enhance the overall success of any company. Women are able to effectively convey ideas and messages in a way that resonates with different types of people. They are often empathetic and intuitive, which allows them to better understand the needs and desires of consumers. Additionally, women are typically collaborative and team-oriented, which is an essential quality, especially in marketing. Being able to bring all of these skills and more, and feeling supported by my manager in every way means that I feel appreciated for both my professional and personal skills. This lets me bring out my best self at work and, most importantly, continue to grow and learn every day, and contribute to my company's success.
As a new mom, I find it challenging to balance my new family status with my professional challenges and growth while trying to master both aspects of my life. At Reflectiz, there is full support and understanding for work-life balance, whether you're a mother or father who wants to spend time with your family. I see our CEO, Idan Cohen, as a role model for how it's possible to invest in your business and family and get support to do the same as a mom.
Undoubtedly, the cyber industry is still dominated by men, and we have a long way to go in terms of making progress toward gender equality. However, the Reflectiz cyber women are a shining example of the progress being made towards this goal – they are paving the way for future generations of women to succeed in cybersecurity. As we celebrate International Women's Day, it's important to recognize and honor their contributions, and to continue supporting and advocating for women in tech to ensure a more equitable and diverse industry for all.